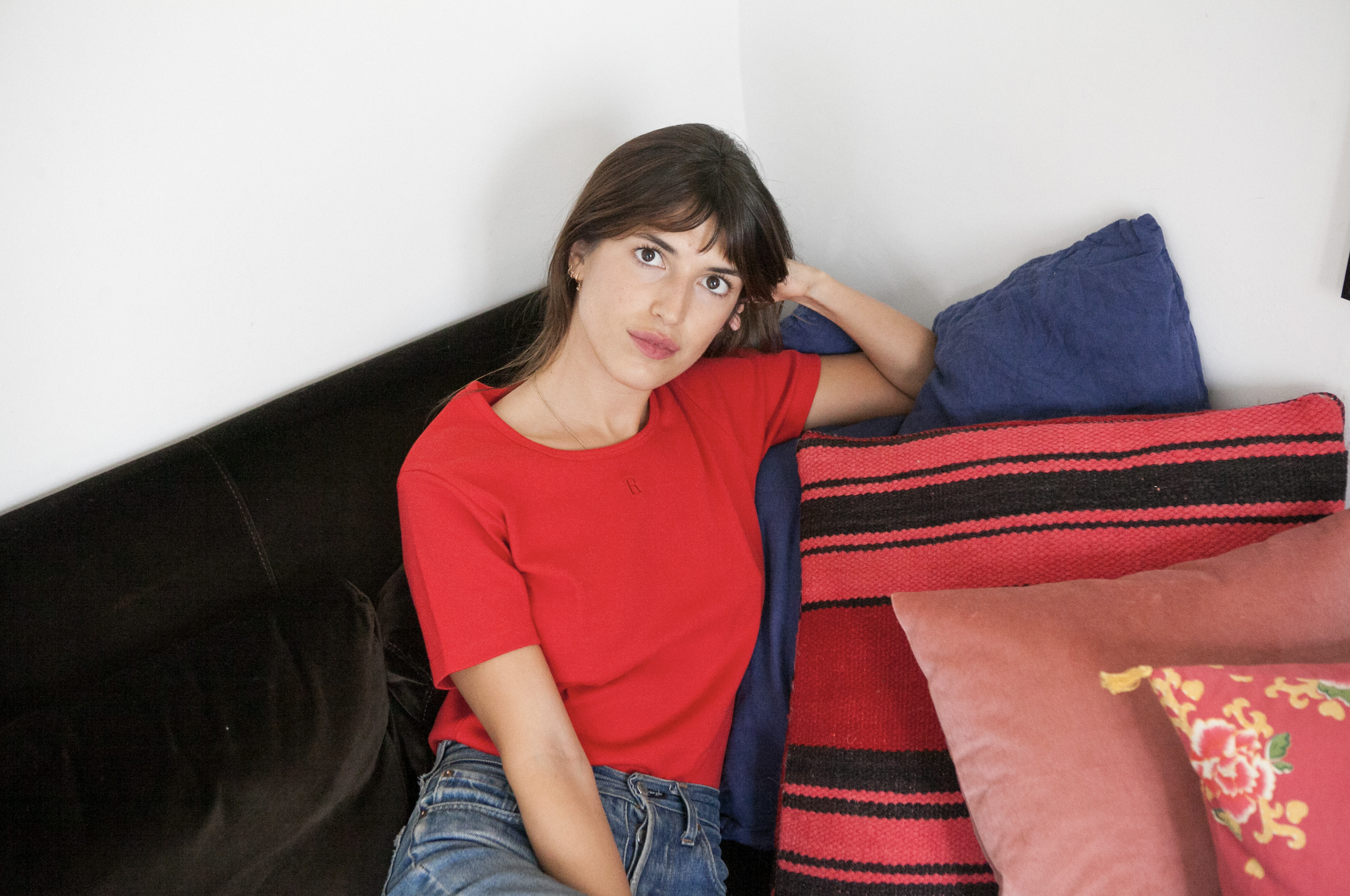 T"here is no strategic formula to dressing. It's all about wearing what you feel comfortable in," says Jeanne Damas, when the word style is called into question. The role-juggling entrepreneur, who oscillates between creative direction, brand consultancy and modelling, is also one of Paris's most influential dressers, boasting – unsurprisingly – more than a million Instagram followers – yet another string to her multi-faceted bow.
When it comes to starting a fashion brand, an acute eye for aesthetic comes first, but an active social media strategy ranks a close second—Jeanne Damas is a master of the two, so the launch of her brand Rouje was expected, if not inevitable. "My vision of fashion puts functionality, femininity and of course, comfort first. I wear clothes that make me feel beautiful and I design classic pieces with that same aim in mind. I want women to feel good and comfortable, the two can and do run in parallel. It's really important for me to not follow trends because I really like the idea that a wardrobe is something that's about you, it should represent who you are and how you dress. These pieces aren't 'It' pieces, they are classic, they fuse function with beauty."
The word 'function' isn't usually one to set pulses racing, but when spoken in a prototype French accent – as they are with Jeanne – we can't help but feel assured that this combination of function and beauty is one we want in on. It is this, her effortless, Birkin-inspired style made up of silk shirts and vintage denim, that is magnetic to her followers who can prescribe her effortless yet always luxurious aesthetic via Jeanne's own clothing line Rouje.
For Jeanne, the production of her brand Rouje found conception naturally, beginning with one very simple foundation: friendship. "Nathalie Dumeix has encouraged me in so many ways," says Damas about her life-long friend and stylist. "Our friendship was the starting point of Rouje. It is a brand that was born and lives through that all-important relationship that is friendship."
Jeanne crested into fame in the blogging era, an authentic voice and vision for a brand of French femininity that felt, at that point, forgotten. She and best friend Simon Jacquemus were of the Myspace Generation; Jacquemus' first shoots were hastily rigged up, improvised affairs, shot on holiday with a game Jeanne as model. Jeanne's vocabulary of wrap dresses and super short skirts have the pull of another era, but she elevates them with modern twists. Inspired by her sister and mother, Rouje's, and Jeanne's, success is testament to her vision.
Friendship is at the core of Rouje, not merely through the enduring creative collaboration felt between Jeanne and Nathalie, but through Jeanne's own network of fashionable friends who are at the forefront of her mind as she is curating collections.
"The thinking behind Rouje is that it will be and is, made up of capsule collections that can translate to my own wardrobe and that of my friends. That's who I make these clothes for, myself and my friends. I don't like excessive consumption, Rouje will never be that. We work step-by-step, and slowly with a real focus on product design and selection with the central aim being that we maintain brand value."
By Elizabeth Coop for Semaine.
stream.
"Life is Beautiful"
Discover Jeanne's Paris: "I love that Paris is such a small city, you can walk or cycle from one end to the other. I love its human scale, it feels like a small village sometimes and I like that. I couldn't see myself living anywhere else, LA for example feels too big in comparison. Parisians inspire me, the Parisian way of life inspires me, Paris inspires me!"
"Every summer since I was young, I meet my group of friends at Les Rencontres d'Arles the week the photo festival opens. Every evening we have a pastis on this square."
This hotel, which was built in 1854, has witnessed the dramatic evolution of this neighborhood which includes the Haut-Marais, Beaubourg and the Saint Martin Canal.
At the corner of Rue St Maur, what used to be a rather down – at – heel bar has been refurbished by two sisters, Katia and Tatiana Levha. The latter cooks fresh and spontaneous cuisine based on ingredients that, although simple, are always top – notch.
In Parc des Buttes-Chaumont, at Avenue Darcel, a large 19th century house covered in ivy which is reached by a flight of stone steps: you are at Pavillon Puebla.At the heart of this green setting, you'll find a restaurant, two terraces, two bars, wooden structures, Moroccan armchairs, a swing, peace under the shade of chestnut trees, the party on the dance floor when night falls, and squirrels in the early morning.
Vintage luxury clothes concept store that brings together collections of top luxury, couture and fashion designers.
If you love vintage 70s clothing design, but prefer freshly cut fabric with modern durability, then look no further than Nathalie Dumeix, a French designer and close friend of Jeanne with a small boutique in the 11th arrondissement of Paris.
ask.
"The women in my life."
Get to know Tastemaker Jeanne Damas like you never have before.
What does the word "taste" mean to you?
Jeanne:
To each their own.
Do you have a life motto that you live by?
Jeanne:
No.
What was the last thing that made you laugh?
Jeanne:
My cat sleeping in the bassinet of my future baby.
What are your favourite qualities in a human being?
Jeanne:
Openness of spirit, humour, and goodwill.
Who is your hero?
Jeanne:
The women in my life.
What is your biggest flaw?
Jeanne:
Impatience.
What is your best quality?
Jeanne:
Empathy.
What would your last meal on earth be?
Jeanne:
Pasta.
If you had the power to change anything you wanted in the world, what would you change?
Jeanne:
I'd create a more gentle and equal life for humankind.

END.