meet.
"Great Art Historian"
K
aty Hessel is the modern woman's cheatsheet to female artists. She is someone you would want to have a glass of wine with at an exhibition, vehemently telling you stories of the artists' life, the behind-the-scenes of their artworks and creative skills. Katy is a curator, art historian and presenter. But you might be familiar with her through her podcast; The Great Women Artists, or the Instagram account of the same name which has been spotlighting female artists every day since 2015. "Writing and speaking about art history in an accessible and fun manner, my goal is to readdress the gender imbalance in the art world by reinserting women back into the canon of art history." She has been able to brilliantly celebrate female artists, both old masters who have often been omitted or not given the due credit they deserve, as well as providing a space for new talent. Unafraid of lengthy captions, Katy has harnessed social media which can often be inward gazing, using it as an educational platform that is entertaining and accessible nonetheless and has built a remarkably engaged audience. You can tell she is fascinated by people and their stories, with her podcast guests ranging from fellow art aficionados and curators to young artists. Conversations include the likes of Hans Ulrich Obrist, Olivia Laing, Guerrilla Girls, and Director of Tate Modern, Frances Morris, as well as contemporary artists like Toyin Ojih Odutola and Juan Calypso. The podcast also explores the great names that were not as recognised when alive, from Hilma af Klint who experimented with Abstraction before the likes of Kandinsky and Mondrian, to the self-proclaimed "collector of souls", portrait artist Alice Neel — who is one of Katy's favourites. There is no room for unimpassioned episodes which may even entail tracking down Lee Miller's granddaughter.
Hessel has been enamoured by art for as long as she can remember. She recalls having diary entries of exhibitions she would see as a child. Her memories of seeing artworks at the Tate Modern's Turbine Hall from Louise Bourgeois, Anish Kapoor and Olafur Eliasson, has made her realise the impact art can have, even at such a young age. It has been this effect that translates into her view of how art truly is, and should be, for everyone. It all started in 2015, after having gone to a major art fair in London when Katy realised she hadn't seen a single artwork by a female artist. That night, she went home and started @thegreatwomenartists, in a way, making amends and rewriting how the story of art history is being told. This purpose is evident from the first exhibition she curated. In 2017, The Great Women Artists: Women on Instagram gathered 15 female artists, from the classically trained to the self-taught, who all used Instagram as a platform to forge their careers. The show explored how Instagram itself can act as a digital gallery space while also emphasising the importance of seeing art in the flesh.
Other exhibitions she curated since then looked at women artists past and present, as well as touching upon a vast array of themes from feminism and womanhood to migration, diversity, mental health and the gendered language of painting. More recently, Dwelling is the Light has been an exciting virtual collaboration with Timothy Taylor Gallery during confinement. "Think Kiki Smith to upcoming names, Antonia Showering. Drawing upon the current climate and what this time allows for both people and nature, this online exhibition brings together figurative painters, photographers and tapestry-makers who dwell on notions of embracing the landscape and nature and gathering in a surreal-like space."
Katy is now a respected voice in the art world, holding an impressive pool of collaborations for a 26-year-old. She also hosts Dior's podcast "Dior Talks – Feminist Art", interviewing artists such as Tracey Emin and Judy Chicago. She has presented films for Royal Academy of Arts, Sotheby's, Christie's and Barbican. Alongside curating exhibitions for the likes of Victoria Miro and Tate Modern, and lecturing for institutions from Tate to Cambridge University.
Hessel can also be found writing an essay on correcting gender bias in the art world. Or presenting an episode for BBC Four on The National Gallery's critically acclaimed show featuring Artemisia Gentileschi; who has been described as "the great painter whose achievement has been obscured by lazy sexism." The show nearly never came to life due to lockdown restrictions; however, one thing a year of uncertainty and confinement aided in was a renewed interest in the arts providing escapism. Katy talks a mile a minute, bubbles with excitement talking about any of the artists, and has a truly encyclopaedic knowledge of all of them. Her focus is on the need for having conversations about art that have not been included in art history books. And making sure that it is accessible to any level of art history, so everybody can learn about these women artists and their stories. You can explore Katy's most beloved books, virtual exhibitions and artworks, sure to enrich any art novice, and elevate every mood.
By Defne Saricetin for Semaine.
Look no further to get your dose of digital art education. Katy Hessel is here to help with her favourite art streams.
explore.
"Art Around the World"
Niki de Saint Phalle's Tarot Garden
Pescia Fiorentina
58100 Provincia di Grossetto
Italy
"A sculpture garden full of colossal mosaic-made buildings that represent the tarot deck in the heart of the Tuscan countryside!"
Museo Frida Kahlo
Londres 247, Del Carmen
04100 Ciudad de México
México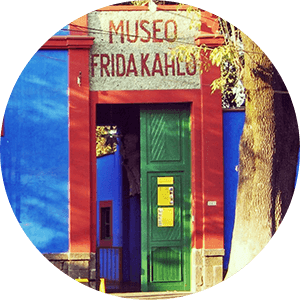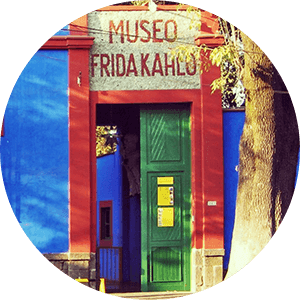 "The most special, intimate place where Frida Kahlo grew up. Her paints are still out!"
Barbara Hepworth Museum and Sculpture Garden
Barnoon Hill, Saint Ives
TR26 1AD London
United Kingdom
"For it's charm and insight into Barbara Hepworth's life and practice. All her work stemmed from this garden."
"The ultimate feminist pilgrimage to a dinner party that honours 39 incredible women from history."
"It's my dream to visit here. Where Georgia O'Keeffe drew from in the second half of her life."
"The most haunted exhibition space in the whole of the expansive Dia: Beacon, with a Bourgeois spider in an attic-like room upstairs."
"The home of the Bloomsbury Group. Everything from the tables to the door knobs are covered in their paint."
"This was where Miller lived post World War I. Her family run this house now which hasn't changed since she died in the 70s."
"Again, my dream is to do a Land Art tour of the mid-West."
"An island off Japan full of incredible artworks, including Kusama's pumpkins! "
Close your eyes. Imagine your perfect art library. Now scroll down and see your wish fulfilled.
1.
Charlotte Salomon
"This book by Taschen compiles the 700+ works that made up Salomon's germinal piece – probably the most emotional work in the history of art."
2.
Do Not Abandon Me
"One of my favourite art collaborations was this by two of the greatest women who have ever lived!"
3.
Self Portrait
"Celia Paul, chronicling her strict Catholic upbringing, her relationship with Lucian Freud, and how she has become one of the most influential painters of this generation."
4.
Ways of Curating
"For anyone who wants to understand how to work with artists, how to ask them the right questions, appreciate them, look no further than HUO's critically acclaimed book."
5.
The Lonely City
"Olivia Laing's Lonely City changed my life when I was younger.The most poignant,intimate text on loneliness, and how it has impacted the lives of artists."
6.
Madge Gill
"This book was published at Outsider Artist Madge Gill's show in her hometown of Walthamstow last year, a beautiful record of her automatic drawings which were guided by her spirit."
ask.
"Anyone can fly, all you gotta do is try."
Get to know Katy like you never have before.
What does the word "taste" mean to you?
Katy:
Believing in great art and artists.
Do you have a life motto that you live by?
Katy:
In the words of Faith Ringgold: Anyone can fly, all you gotta do is try.
What was the last thing that made you laugh?
Katy:
Probably a meme in these trying times.
What are your favourite qualities in a human being?
Katy:
Good fun. Interested. Kind. And up for a party.
Who is your hero?
Katy:
Artemisia Gentileschi.
What is your biggest flaw?
Katy:
I probably sing too loudly. And talk about art far too much.
What is your best quality?
Katy:
I like to make the most out of something.
What would your last meal on earth be?
Katy:
Macaroni and Cheese cooked by my mum surrounded by all my friends and family. I've been having mac and cheese birthday parties since my early teens. It's tradition.
What does success mean to you?
Katy:
Delivering something great, which you truly believe in (work or play!)
If you had the power to change anything you wanted in the world, what would you change?
Katy:
Gender and racial equality in every museum. And a whole lot more.
END.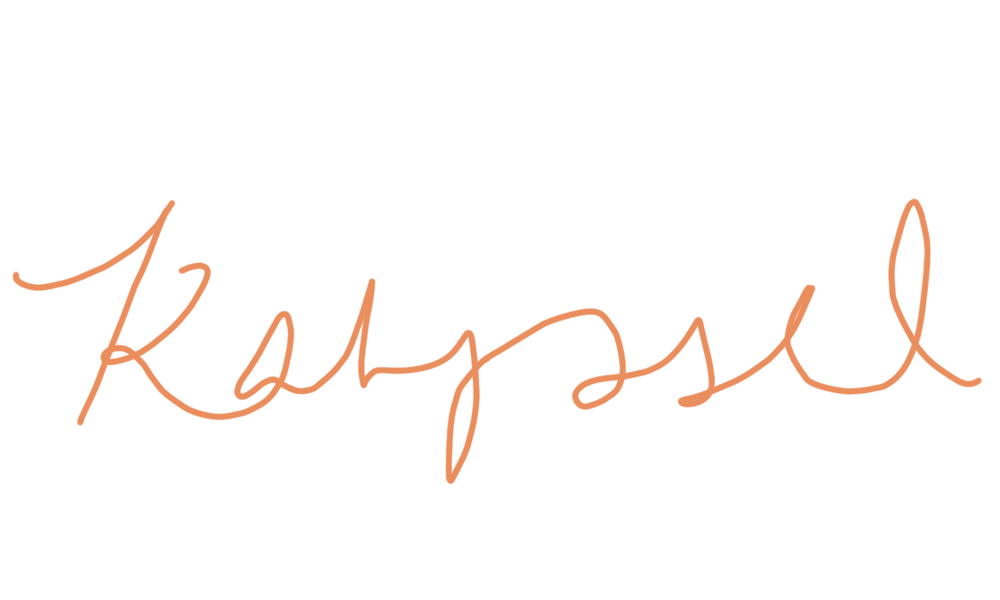 workbook.
"Katy's A-Z Of Female Art"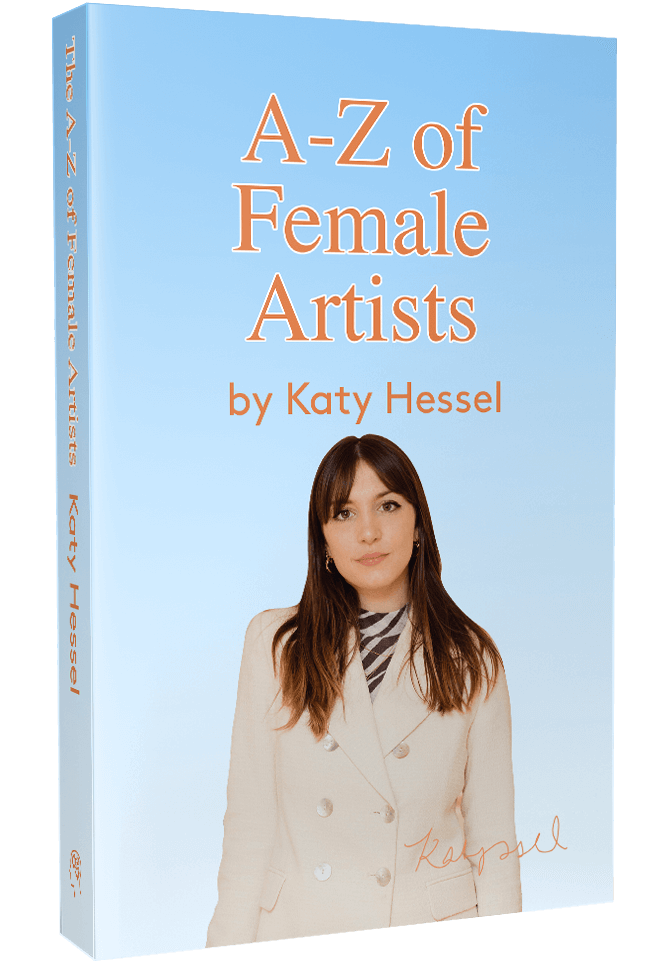 Katy's A-Z Of Female Art
We've teamed up with Katy Hessel, founder of The Great Women Artists, to create your go-to guide to celebrate women artists for art lovers of any age, gender or generation. From American artist Alice Neel, who Katy considers the greatest portrait painter to ever lived and referred to herself as a 'collector of souls'–to, German-Ghanaian artist Zohra Opoku who examines political, historical, cultural and socio-economic influences in the context of Contemporary Ghana, join us in the conversation to re-address the gender imbalance in the art world and celebrate these women as they slowly make their way back into the canon of art history.
ENTER WORKBOOK