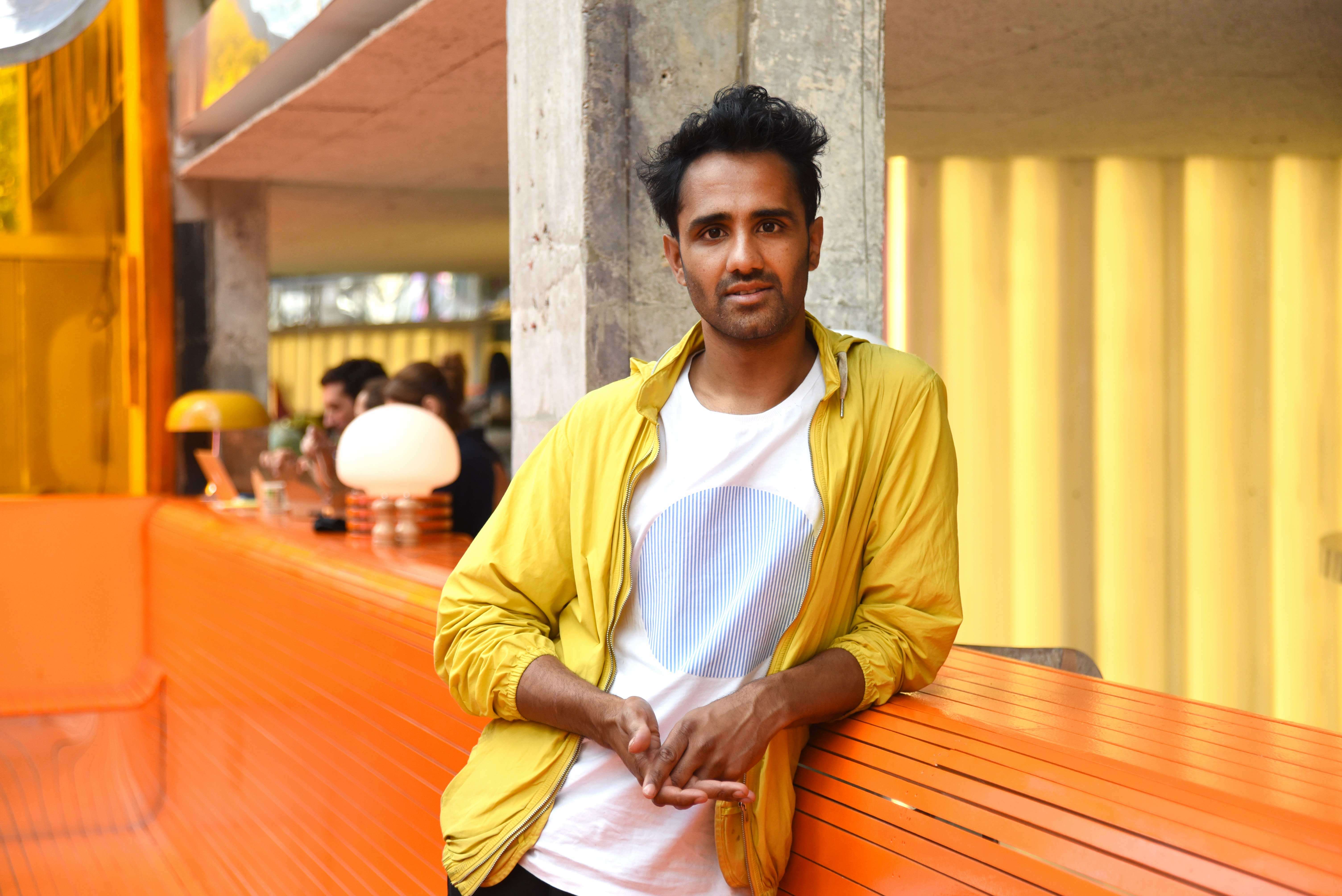 A
t Semaine we believe in the power of unity. Without exception, every inspirational figure that we've had the pleasure of featuring has thrived on the coming together of people from all walks of life, from across the globe. There is a tendency to view these entrepreneurial spirits as existing in their own singular bubble of divine genius, a narrative that foregoes the crucial and specific roles played by variety of place, by diversity of other people. We feel fortunate therefore to be featuring Rohan Silva as our tastemaker this week, of all weeks. Silva is the visionary co-founder of the London-based 'creative accelerator' Second Home, and a man who has devoted his life to empowering this crucial, community-minded aspect of entrepreneurialism.
For all of the reasons outlined above and countless others, we were saddened by the results of Thursday's EU referendum in the UK. We were also emboldened to take this uncharacteristic editorial stance because we feel that it is important to remind ourselves (and hopefully our audience) what it is that really makes and allows our tastemakers to be so special. With that in mind we felt galvanised by our conversations with Silva, and hope that reading what follows has a similar effect. Describing Silva as 'visionary' is less about hyperbole and more a straight descriptor of the career he has forged for himself. After an initial stint in the treasury, Silva became a special advisor to Downing Street, where he would advise the prime minister and chancellor on, as he puts it, "all areas of policy, from international development to the environment, the economy, reforming government." Nine years on, Silva now devotes his life to nurturing the diverse blend of companies and organisations that populate Second Home, a striking workspace and cultural venue that he co-founded alongside partner Sam Aldenton, one that sits nestled amongst the Bangladeshi curry houses and nascent hipster-economy of the Brick Lane area in Shoreditch, East London.
At Second Home, the coming together of different people and cultures is no accident of geography, it is ingrained in the very ethos of Silva's approach – one that sees both the social benefit and commercial sense in such a set-up, both facets mutually, unequivocally beneficial. He talks at length and with passion about paying the living rather than minimum wage, the apprenticeship scheme that Second Home runs in partnership with the local community college, and the importance of placing the tech giants of Second Home alongside charities that would otherwise not be able to exist in London. "At the heart of our business is this idea that if you bring together different types of people and industry then good things happen," says Silva. "Cross-pollination is a good thing. Apprentices and making sure to work with people from diverse backgrounds are not a 'side' thing. It is absolutely crucial to where creativity and innovation come from."
Silva goes on to contrast this set-up with the way that many huge multinationals often deal with 'corporate responsibility.' "If you work at Google for example, you can do your day of volunteering a year or whatever because it's all set up for you. But what if you work at a fashion company and there's five of you?" At Second Home it becomes ingrained in the everyday.
Of course for the Second Home culture to pay off, it has to be embraced whole-heartedly by the budding entrepreneurs involved, something that is spearheaded by Silva's own relentless positivity about the ability of the entrepreneur to affect growth and change beyond the bottom line. Paraphrasing David Hewlett, the founder of Hewlett-Packard, Silva says, "the reason that people get together to form this strange thing called a company isn't typically to make money, it's to try and change the world." Later in our conversation he references the Jewish philosopher Maimonides who said the highest form of charity is to create a job. "Simply starting a company and growing it, treating your employees well and offering training opportunities is a real good in and of itself. What we're trying to do at Second Home is enable small, growing companies to plug into bigger social responsibility activities that we run," says Silva.
This commitment and positivity extends to the more material elements of the Second Home project as well, most notably in the building itself. "The environment we're in – our cities and buildings – they have a profound impact on our behaviour, our wellbeing, the environment, job creation," says Silva. "There are better ways of designing these spaces to better support these fundamentally good things." With that in mind Silva commissioned Selgas Cano, the renowned Madrid-based architecture firm also responsible for last summer's Serpentine Pavillion in Hyde Park, to design the building. "In their work they ask the question how can we design space so that it mimics nature in various ways? The reason they do that is because over the millennia we haven't evolved in buildings and cities, and if you can design spaces that better map the natural places in which we evolved then that turns out to be really good for our wellbeing and creativity and so on." The example Silva uses to illustrate this is the eclectic mix of furnishings across Second Home: "you'll notice every chair and desk lamp is different," he says. "They're all bauhaus and mid-century originals, but they're all different because in nature every leaf, every snowflake is different. There's a real complexity that they're echoing in a really lovely way."
Further proof of Silva's commitment to environmental as well as social concerns can be seen in the two thousand plants that cohabit with the workers at Second Home; the recycled plastics that make up the transparent facades of the building; the reclaimed wood that is used on the ceilings and shelving across the road at the Second Home bookshop. The bookshop itself is meticulously constructed in support of the overarching ethos. "The books aren't organised according to history or science or philosophy but instead according to sweeping themes, so that you have a real sense of serendipity." The examples that Silva, a passionate and optimistic Londoner, plucks out of the air to illustrate those 'sweeping themes' feel particularly poignant given the post-referendum context in which our conversation takes place: "sweeping themes like terror and wanderlust," he says.
It would be easy to get swept away by the overarching utopian ideals of Silva's work at Second Home – his "mission" as he refers to it numerous times. Yet for all of the grand ideals at play, he is smart enough to realise that everything hinges on the way in which we as a people choose to embrace changes and move forwards. "I'm genuinely optimistic about the future but only if we do the right things. All these changes could be absolutely calamitous for the environment and our wellbeing but it's up to us to decide that. If we can invest in our education system and rethink our city building then those things can be real enablers of human creativity and flourishing." Inevitably such talk turns to the specificities of the Leave campaign's victory in the referendum, and with his years spent working in government Silva has a number of steps he'd like to see taken by the victorious pro-Leave politicians. Ultimately though, Silva looks to the "explosion of entrepreneurship" over the past three decades or so to affect positivity in the coming months and years.
"I voted for Remain and I made the case publicly for Remain, but I think what entrepreneurs do is roll up their sleeves and get on with it. Pretty much every company at Second Home would have been backing Remain I'm sure, but what I feel today is a proper sense of determination. We're going to make the most of it and I think that's wicked. It says something really great about entrepreneurs and their attitudes and that's why we as a country are going to be fine."
By James Darton for Semaine.
A quick glance at the media Silva consumes on a daily basis confirms the importance he places on culture as an essential part of business: bastions of old media such as a print copy of the NY Times and the New Yorker are consumed alongside the likes of the Guardian football site, NPR podcasts and Twitter – the latter of which he is adamant he looks at "only in the glancing sense…"
Everything at Second Home supports creativity and entrepreneurship, from the biophilic-designed workspace to the diverse community and cultural, educational and wellness programmes. "At its best, I hope that Second Home is a microcosm of the city as a whole, which is diverse and has an amazing history of social justice."
explore.
"Roam with Rohan"
Atira-te Ao Rio
R. do Ginjal 69
2800-284 Almada
Portugal
"Lisbon has changed so much since we launched Second Home there in 2016, but the "other side" of the river is still wonderfully lo-fi – just grab a ferry across and eat in this lovely little restaurant. Oh, and if it's packed, go to Ponto Final next door…"
Grant Street Beach
Cottesloe
WA 6011 Perth
Australia
"I really think Perth is one of the most underrated places on the planet for lots of reasons (awesome food, a stunning river running through it, amazing wine country etc) – chief amongst which are its beaches, which are just unbelievable, and smack-bang in the middle of the city. They're all spectacular, but Grant Street Beach is a particular favourite of mine."
Barts Books
302 W Matilija St
Ojai, CA 93023
United States
"I like bookshops so much that I have two of my own (Libreria in London and LA) – and I'll happily spend a couple of hours in the car just to get to this unique open air second-hand bookshop, especially as it's in Ojai, which is my fave destination for a weekend break from LA (where I'm living at the moment)."
Gurnard's Head
TR5 0RU St Agnes
United Kingdom
"From the Tate at St Ives to places like St Agnes or the Gunard's Head pub near Porthmear, the northern coast of Cornwall is just magical – wild and otherworldly, and like nowhere else."
Barra del Colorado Wildlife Refuge
Limón Province
Costa Rica
"I really wasn't prepared for just how life-changing a trip to a rainforest would be – I can't recommend this adventure highly enough."
Silva's views on serendipity and removing boundaries can be seen in the way he organises the books in Second Home's bookshop – not by conventional category but by 'sweeping themes'. "You might walk in to buy a book by John Updike and walk out instead with three books on quantum physics… It's about being exposed to new ideas that spark creativity and innovation."
1.
The Open Society and Its Enemies
"The most important book I've ever read – in that it fundamentally changed my political views, for better or for worse!"
2.
Fooled by Randomness
"Kind of a companion piece to The Open Society, in that it's all about how little we can ever truly understand about the world around us – and what that means for how we should think and behave."
3.
The Future of Life
"I'm increasingly obsessed about biodiversity and the destruction of natural habitats and species – and this is the book that first opened my eyes to the beautiful complexity and fragility of the biological world."
4.
Gödel, Escher, Bach
"Love this book – it's all about complexity and the incompleteness of our knowledge, but it's also about how separate fields like music, art and maths are interconnected in unexpected ways."
5.
The Inheritance of Loss
"One of my favourite novels – it's all about how interdependent we all are in this globalised world, which is something worth being reminded about during this isolated COVID era."